Industrial Cleaning Tips for a Productive Facility
Posted on November 09, 2022

Studies show that disorganized and unclean work environments make it difficult for employees to focus, stay motivated, or be productive. Between shipment deliveries, assembly line manufacturing, and distribution, industrial spaces require constant movement which means there's a lot of opportunity for things to get messy. Without industrial cleaners, tasks are more likely to not be completed as scheduled, triggering a chain reaction that has the potential to bring productivity to a grinding halt.

At Go Clean Plus, our commercial cleaning in Toronto allows employees to perform at their best while staying healthy.

Below are industrial cleaning tips for maintaining a productive workplace facility.
Coordinate a Cleaning Schedule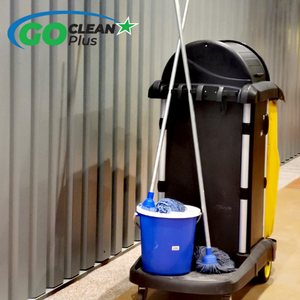 The key to a clean and healthy workplace is to create a regular cleaning schedule that fits your work hours, preferences, and budget. Begin by identifying areas that need to be cleaned regularly. Depending on the work zone, the site may require daily, weekly, or monthly cleaning to preserve a clean environment. By coordinating a consistent cleaning schedule, you can ensure that all high-traffic areas, surfaces, and tools are sanitized and ready to use. At Go Clean Plus, our team of experts offers custom cleaning solutions, so your facility can get a deep clean regardless of your type of business or the size of the facility.
Keep the Floors Clean & Cleared
When coordinating your schedule for commercial cleaning in Toronto, it's vital to ensure that the floors are kept clean and cleared. In an industrial environment, accessible and visible floors allow employees to move safely and do their jobs correctly with minimal interruptions. When the space is well organized and cleaned, your employees don't have to veer off of the task at hand to mop, sweep, or reorganize, which would otherwise reduce the efficiency in which they can complete tasks.
At Go Clean Plus, our industrial cleaners have years of experience and 100% satisfaction guarantee, so you can count on us to get the job done right.
Provide Readily Available Waste Bins
Incorporating readily available recycling and garbage bins throughout your commercial building is a great way to encourage your employees to use the appropriate waste bin to dispose of waste materials. Having waste bins available significantly reduces mess and clutter from accumulating. To aid in the process, clearly indicate which substances are permitted in each bin. At Go Clean Plus, our team offers waste management services, so you don't have to worry about throwing out your garbage bins after long work days.
Regularly Turn Inventory
In an industrial workplace, it's essential to turn over inventory, even if it's not moving through the cycle. Rotating your old stock is recommended instead of sending out newer items. Doing so prevents products or materials from sitting in the facility for extended periods - collecting dust, taking space, and using money. To discuss customized cleaning solutions like inventory turnover, contact the team at Go Clean Plus for more details.
Professional Commercial Cleaning in Toronto
Go Clean Plus is your top choice for high-quality commercial cleaning in Toronto. With decades of experience, dedicated teams, and advanced equipment, you can trust us to effectively clean your space.