How Janitorial Cleaning Services Help Stop the Spread of Viruses in Schools
Posted on April 14, 2022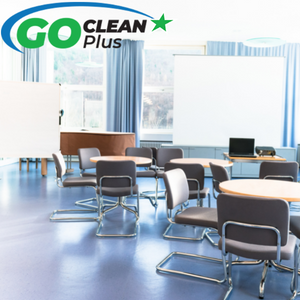 In an educational facility, the spread and transmission of germs and viruses can be quite a nuisance to students, teachers, staff, and even cleaners who have to deal with the messes and germ-riddled surfaces left behind. Almost any commercial cleaning company in Toronto knows wiping down desks and other surfaces after lunchtime is just the tip of the iceberg to ensure that viruses are not spread in schools.
Studies have shown that the average person will pick up bacteria, mildew and mold on their hands after touching a doorknob in a public building. The spread of viruses via doorknobs, keyboards and other surfaces is a significant health concern. The best way to protect staff and students from this type of viral contamination is by providing thorough cleaning services at your school or another place where people gather. Janitorial cleaning services in Toronto are proven to help stop the spread of viruses by thoroughly cleaning a facility after people have left.
The Centers for Disease Control and Prevention (CDC) reports that janitorial cleaning services are critical in stopping the spread of viruses in schools. In fact, a recent study by the CDC found that when custodians properly clean surfaces in schools, it can help reduce student absenteeism by as much as 29 percent.
How Janitorial Cleaning Services work
Janitorial cleaning services in Toronto performed by a commercial cleaning company nearby help stop the spread of viruses in schools by deep cleaning the premises and removing any potential contaminants. In addition, commercial cleaning companies' staff are often trained in properly disinfecting surfaces and disposing of hazardous materials, which helps to further reduce the risk of infection. By having regular janitorial cleaning services scheduled in place, schools can help ensure that their students are healthy and safe.
Benefits Of Hiring A Commercial Cleaning Company In Toronto
They Use Hospital-Grade Cleaning Materials
One reason why janitorial cleaning services in Toronto are so effective at stopping the spread of viruses is that they use specialized equipment and products to clean surfaces. For example, custodians often use disinfectants to kill germs on contact. Additionally, janitors use microfiber cloths and mops to remove dirt and dust from surfaces. This helps prevent bacteria from spreading.
Use Innovative Cleaning Technology
Commercial spaces, such as schools, often become face to face with a whole host of viruses. To stop the spread of these viruses, it is vital to use a good janitorial cleaning service. A superior janitorial cleaning company, like Go Clean Plus, will use innovative cleaning technology to eliminate any traces of viruses.
Some ways that a commercial janitorial cleaning company can eliminate viruses include using disinfectant chemicals, UV lighting, and HEPA filters. Using these methods, a janitorial cleaning service can help ensure that your school is free from harmful viruses.
When school districts hire janitorial cleaning services, it helps ensure that all areas of the school are cleaned regularly and effectively. This not only reduces the risk of students getting sick but also helps keep classrooms and common areas looking their best.
Hire The Best Janitorial Services In Toronto
In order to prevent the spread of viruses at your school or office building, it is important to clean regularly. The best way to clean is by hiring professional janitorial cleaning services in Toronto. When the cleaning company arrives, it is best to provide them with specific instructions regarding surfaces that require special attention. Contact Go Clean Plus about scheduling a consultation so we can customize a cleaning strategy that fits your needs.