FAQs About Electrostatic Cleaning
Posted on May 21, 2021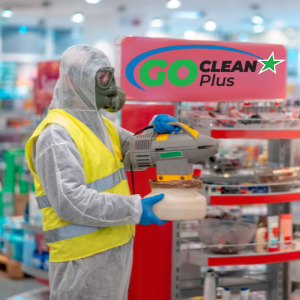 One hot topic in the cleaning company industry is electrostatic disinfection. As we slowly creep closer to re-opening our economy, staying on top of workplace disinfection should be the top priority for all businesses. There are many benefits to hiring a professional cleaning company, like Go Clean Plus, to perform electrostatic cleaning. It's incredibly effective at killing bacteria, requires touchless application minimizing chances of cross-contamination, and is timely and efficient.
Is Electrostatic Disinfection a New Technology?
Nope! Electrostatic cleaning has been a routinely used cleaning method in many industries, including healthcare facilities and long-term care homes. Electrostatic technology has been around even longer. The farming industry, for some time, has used electrostatic technology to pray their crop fields with Pesticides.
How Does ElectroStatic Disinfection Work?
Since the onset of the COVID-19 pandemic, electrostatic disinfection has been in popular demand. Electrostatic disinfection cleaning works to effectively disinfect any and every inch of all surfaces. It is loved by commercial cleaning companies because it helps to cut down on waste and traditionally requires ⅓ of solution you would use by using other disinfection methods.
What Is It Effective Against?
How effective your electrostatic disinfection cleaning depends on the type of disinfectants used. At Go Clean Plus, we use only the best cleaning products. Our electrostatic cleaning kills 99.9% of bacteria commonly associated with TB, biofilm, C. Difficile, and other fungal infections in 4 quick minutes.
Does it leave a Residue?
There is a slight chance that after electrostatic disinfection, a light layer of residue may remain. This is because the solution must remain wet and stay on surfaces for particular durations to be properly effective. Of course, once the allotted time has passed, you can always give a specific surface a quick rub down to remove any film or streaks.
Does the room need to be Cleared of People?
To ensure that all surfaces are disinfected, it is best practice to empty the room before the electrostatic cleaning begins. But if that is not possible, just keep a reasonable distance between you and the person spraying. Electrostatic cleaning is safe for those around and the user, but we often wear PPE for added safety measures- especially during the current pandemic.
Why Choose Electrostatic disinfection over other methods?
In a Post - COVID world, electrostatic cleaning is the best method to choose because:
It truly is 360º cleaning. It effectively disinfects up to 3x more surfaces than regular cleaning.

When dilution is used at 1076PPM, electrostatic disinfection can kill the COVID-19 virus.

No cross-contamination risks with this 100% touch-free method

It is 80% than the traditional disinfection methods done in the past.

Efficient use of chemicals, avoiding over or under usage.
At Go Clean Plus, we are committed to delivering the highest quality services. During this time that we are battling the COVID-19 Pandemic, taking that extra step to ensure total and comprehensive disinfection is what we do. Our team at Go Clean Plus are all specialized in providing electrostatic deep cleaning. Contact us today to schedule your electrostatic cleaning!