Are Commercial Cleaners Operating During the Lockdown?
Posted on February 08, 2021

In the wake of the COVID-19 pandemic, we have seen an increase in demand for professional office cleaning services. Thankfully, the government currently classifies all commercial cleaning services as essential businesses during the ongoing lockdowns. Employees of professional cleaning companies are unsung heroes of the pandemic, keeping essential businesses disinfected and safe for customers and staff alike. A commercial cleaning company can help keep your business operating during the ongoing pandemic and ensure your employees can focus on their work without worrying about their safety.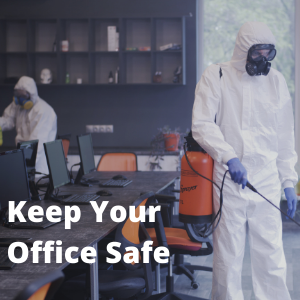 Are Commercial Cleaners Operating?
All commercial cleaning services are considered essential during the ongoing lockdown in Ontario. Although the government does not currently recommend having a cleaning service come to your home, you can hire professional cleaners for your commercial business or office. Most government officials and health care professionals highly recommend hiring a commercial cleaning company to ensure your essential business is appropriately disinfected and your employees are protected from COVID-19 transmission on surfaces. A thorough commercial cleaning service in Toronto will use industrial chemicals and equipment to disinfect all floors, door handles, and contact surfaces in your retail space.
Increased Frequency
During the ongoing pandemic, it is important to disinfect your office space as frequently as possible. Most professional cleaning companies offer flexible schedules to accommodate multiple cleans per week. Using a commercial cleaning service two or three times per week can provide you with peace of mind that your employees and customers can use a safe space. Every time a commercial cleaning company visits your business, they offer a sanitization guarantee thanks to industrial chemicals and equipment that are not available to consumers.
Features to Look for with a Commercial Cleaner
When looking for a commercial cleaning company to assist with disinfection during the pandemic, you will want to find a company that uses alcohol and bleach products. These chemicals can effectively kill the virus that causes COVID-19, and alcohol and bleach are currently listed as approved disinfectants by Canada's Government. Some commercial cleaning services also offer electrostatic cleaning, a specialized cleaning surface commonly used in health care settings and nursing homes. This provides a thorough clean of all surfaces and can disinfect areas contaminated with COVID-19. A mechanical sprayer is also a good piece of equipment to look for as it can clean tough to reach corners in your commercial business.
Go Clean Plus is Operating During Stay At Home Orders.
Go Clean Plus is a commercial cleaning company that currently services the Greater Toronto Area. With an expert team of cleaning staff, Go Clean Plus offers thorough disinfection services for small and large commercial businesses. They currently offer electrostatic cleaning and use various chemical cleaners proven to kill the virus that causes COVID-19. With flexible scheduling options, you can hire Go Clean Plus to disinfect your business multiple times per week. The ongoing pandemic has highlighted the importance of a clean and safe workspace for employees and clients. To book professional disinfection of your commercial business, contact Go Clean Plus at 647-344-0144.