7 Surfaces A Commercial Cleaning Company In Toronto Won't Skip
Posted on April 07, 2022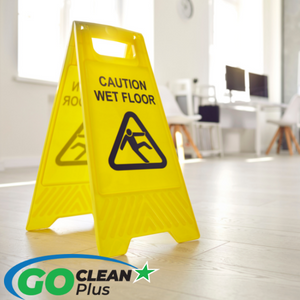 According to the Environmental Protection Agency, cleaning and disinfecting is one of the most effective ways to combat the spread of bacteria, viruses, and other germs. As we've previously discussed, the office can be a major source of illnesses for you and your co-workers. Many people spend a minimum of eight hours a day in the office, where germs and bacteria can spread like wildfire due to close proximity and poor cleaning.
Improving the cleanliness of your offices by hiring a commercial cleaning company in Toronto can significantly improve your employees' health, which will lead to overall higher productivity. It's important to know that not all surfaces are created equal. And when you employ the commercial cleaning services in Toronto of Go Clean Plus, you can rest assured that the seven most heavily contaminated surfaces in your offices will be sanitized by our cleaners.
1. Phones and Computer Keyboards
These surfaces are home to such a huge variety of pathogens that you should disinfect them daily. We use a 10% bleach solution or alcohol wipes to clean these surfaces.
2. Door Handles
You should disinfect them every time someone uses them. These surfaces see a ton of action, and it's essential to keep them clean. Most reputable cleaning companies in Toronto always ensure to cover high-touch surfaces like door handles.
3. Desks
Your desk is probably the most contaminated surface in your office. It's a collecting ground for dirt, dust, food crumbs, and other debris. Plus, it's often one of the most cluttered surfaces in an office.
4. Computers
Your computer is another heavily contaminated surface in your office. It's home to countless bacteria and viruses, which can be transmitted to you through contact with the keyboard, mouse, or screen.
5. Light Switches
Office workers frequently touch light switches, which can be one of the most heavily contaminated surfaces in an office. These switches are typically touched by many people each day, and they can easily become covered in bacteria, viruses, and other germs. To reduce the risk of getting sick, it is important to disinfect light switches regularly. Our cleaning company uses wipes,spray-based disinfectant or use a cloth to scrub the surface with warm water and soap.
6. The copy machine
The glass plate of a copy machine can be one of the dirtiest surfaces in an office setting. Germs and bacteria can easily accumulate on its surface, so it's important to clean it regularly.
7. Sinks and Counters
Sinks and counters may not be the first thing that comes to mind when you think of contaminated surfaces, but they can easily become contaminated if not properly cleaned and disinfected. Food particles, bacteria, and viruses can all live on these surfaces for extended periods of time, so it is important to take extra care when cleaning them.
Hire Commercial Cleaning Services Today
The importance of commercial cleaning services cannot be understated. Commercial cleaning companies are responsible for providing a variety of different cleaning services, ranging from window cleaning to potentially dangerous tasks such as degreasing and electrostatic disinfection.
Commercial cleaning services are vital to ensuring that all of the offices in your building are kept in pristine condition. A good commercial cleaning service will be able to carefully focus on the most important areas of your building, ensuring that everything is kept in the best condition possible. Contact Go Clean Plus today to inquire about our commercial cleaning services available in Toronto and the GTA.